Posted by admin at 3 May, at 10 : 08 AM Print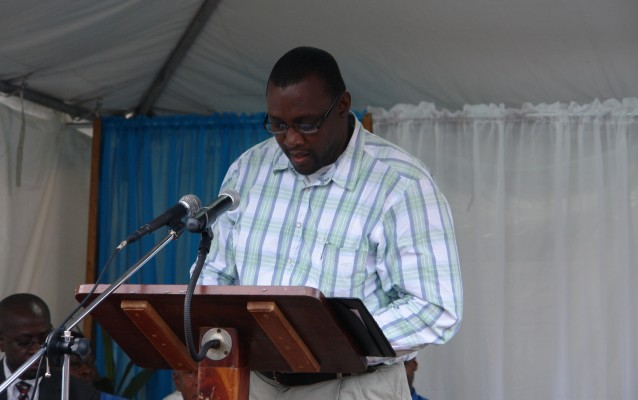 St. George's, May 3, 2012 – Grenada's Sports Minister Patrick Simmons is not happy with the infighting and dissension in the National Democratic Congress (NDC) and government.
"I feel a great sense of betrayal,'' Simmons said in a television news interview Wednesday.
The former school principal entered politics for the first time in 2008 when he won the St. Andrew South-East seat as an NDC candidate.
Within a year of the election victory, Prime Minister Tillman Thomas reshuffled his cabinet, amidst rumours and speculation that all was not well within the government.
Other ministerial changes were to follow, as well as the firing of one minister and the resignations of two others – former Environment Minister Michael Church and former Tourism Minister Peter David.
Prime Minister Thomas, who is also NDC leader, recently admitted that division existed, labeling it as a fight between "the forces of good and evil.''
Statements by Information Minister, Senator Glen Noel, alleging that there has been a "conspiracy'' to remove Thomas as leader, were cited by David as the reason for his resignation as Tourism, Civil Aviation and Culture Minister.
"I was pushed into having to take this decision after discussions with members of the government. I believe that recent developments and comments have sought to bring our party and government into disrepute,'' said David, who remains MP for the Town of St. George and NDC General Secretary.
Simmons, who is also Minister for Youth Empowerment, said the public squabbling involving members of the NDC and government is damaging to the image of the country.
"It's not good for the citizenry,'' Simmons said. "I'm very disappointed; I'm hurt.''
Simmons said what he has experienced "in terms of human behaviour'' in less than four years in politics, was never witnessed in more than a quarter century as a teacher and father.
As for his political future, Simmons is yet to decide if he'll again seek office at general elections that are due by next year.
Meanwhile, well-known Barbadian pollster Peter Wickham has identified the non-function of the Grenada government and leadership questions about Prime Minister Thomas as challenges facing the NDC and the ruling administration.
"Grenada was expecting a government that would function at all levels and clearly this government is not functioning,'' Wickham told Grenadian broadcaster Lew Smith. "This is the fundamental issue that is being faced.''
Wickham, who conducted a poll in Grenada last year, said that within the NDC, "there is not a whole lot of confidence'' in Thomas.
Nationally, the perception of the Grenadian leader is negative, Wickham added.
"This idea that he has that he was an asset to the NDC was something that existed in his mind alone,'' said Wickham.
"There was nothing in the poll that said to me Grenadians felt he was an asset to the NDC. A majority of people said the party would be better without him.''
Related Posts
1 September at 12 : 15 PM 0