Posted by admin at 1 September, at 12 : 15 PM Print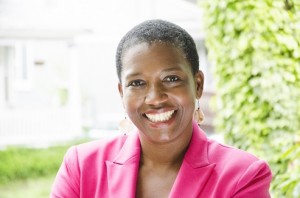 Saundra Thomas, formerly VP of Community Affairs at WABC TV has mounted a formidable campaign for City Council in the 40th District.  Despite her long career there, she has taken the giant step of moving out of the corporate sector where she was able to serve the community, and throwing her hat in the ring and appealing to the voters to let her make public service her full time job.
She has successfully made it onto the ballot, gathering more than 3000 signatures from registered voters in the district.  This far exceeds the 450 required to get on the ballot.  She has met all the requirements for receiving the funds given to qualified candidates by the campaign finance board.  Every candidate must be able to receive donations of $10 from at least 75 donors in the district and raise at least $5000.  Again, she has outdistanced her opponents by raising close to $50,000 since she entered the race in March and exceeding the number of required donors.  None of the candidates opposing her, including the incumbent can make a similar claim.
During her time at ABC she was able to work around the city and locally to fund organizations that concern themselves with youth development and anti-bullying in schools, jobs and training for women, mentoring for girls and a myriad of other issues.  Thomas says, "I know how to get in and roll up my sleeves to solve problems.  I know how to communicate with people and bring information and resources to them that will make their lives and our community better.  That is how I spent my time at the station, and that is what I will do now.
She laments, "There is a lot at stake when you consider the crisis we face in affordable housing that allows people who live here to stay here, the deterioration of schools in our district and the city where we see children doing more poorly than they did previously, the pushback on the federal level to prevent hardworking immigrants from enjoying the benefits of citizenship, cutbacks in healthcare, unemployment in our communities, and the very real concerns felt by mothers and fathers for the safety of our young people in the street.  The city council member has to an active participant in addressing and resolving seemingly small issues as well as large big picture issues.  They must know how to negotiate for funds to the district, and they must know how to bring and disseminate information to their constituents.  We are lacking that kind of leadership at present."
Saundra has spent the last five months, moving all over the district meeting voters and neighbors to share her ideas about initiatives and solutions that can be implemented.  Her campaign theme, Together for a Better Tomorrow, has resonated with voters and the response to her candidacy has been tremendous. She works hard because she realizes that running against an incumbent makes the task a little harder, but not impossible.  She feels strongly that we need to have a bigger voice on the city council from the district.  She believes that the role of the city council member is not simply to give funding and vote for bills favored by big business and organizations.
More on Saundra Thomas and her ideas can be found at www.saundrathomas2013.com or 347-469-0059.
Click here for interview with Rennie Bishop on WWRL Radio