Posted by admin at 29 July, at 16 : 49 PM Print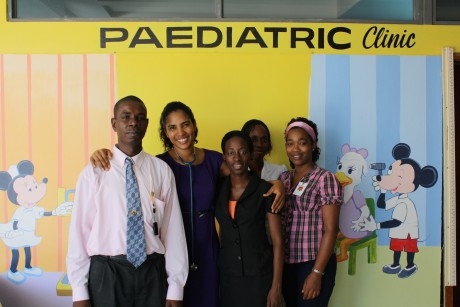 By: Andrea Downer, Journalist
Kingston, Jamaica. July 29, 2011- The recent 31% decline in the number of pediatric deaths in Jamaican children announced by Minister of Health, Rudyard Spencer is not a surprise to Dr. Tracy Evans-Gilbert, a pediatrician with considerable experience in the care of HIV positive children and their mothers in Jamaica.
Dr. Evans-Gilbert, who is based at the Cornwall Regional Hospital in Montego Bay, Jamaica, says the current overall decline is the result of sustained efforts by persons involved in the HIV fight in Jamaica from as early as the 1990s. She also credits the increased availability and reduced cost of anti-retrovirals for treatment of HIV in children for the positive development.
"It's a decline we have been seeing since the early days at Bustamante Hospital children when antiretrovirals first became available to those who could afford it," she stated.
"As the drug became universally accessible across the island we saw at first a decline in hospital stay then fewer admissions. The children's nutrition improved, they didn't miss school and less and less children died. Even those who had advanced HIV that affected their brain and slowed their development started walking!" she told Panos Caribbean.
Mr. Spencer made the announcement recently at the launch of Regional HIV/AIDS Testing Day 2011 in Kingston, Jamaica. 
According to Dr. Evans-Gilbert, when she began her medical career at the Kingston Bustamante Hospital in Kingston in the 1990s, HIV treatment and care of children was done in a very ad hoc way. Although anti-retrovirals for the treatment of HIV had become available by then, very few persons in Jamaica could afford the drug which was very expensive.
 "In those days there was no HIV medication available in Jamaica to give to babies born HIV positive. The most we could do for the babies was treat the infections brought on by the HIV virus, manage their nutrition and try to make them as comfortable as we could," she explained.
"But there was really nothing we could do and we would tell this to the parents – although not immediately. At that time, those HIV positive babies would not live beyond one year. We referred to them as 'rapid progressers' who would develop AIDS very quickly and die shortly after being diagnosed with HIV."
"Back then, HIV testing was not a part of ante-natal care and so we would only find out that the mothers were HIV positive when they would take their sick babies in for treatment and the babies were diagnosed with HIV," she stated.
 "All of the early challenges in pediatric HIV care and subsequent progress that have been made have been captured in publications over the years by a team of pediatricians across the island, which I am a part of," Dr. Evans-Gilbert disclosed.
"In the early days of HIV pediatric care in Jamaica, myself and the other doctors who are part of the now island wide team, shared the same frustration with the challenges we faced and had the same passion to see the children survive," she explained
"We formed the Jamaica Paediatric Perinatal and Adolescents HIV/AIDS Group headed by Professor Celia Christie. The group now leads about eleven paediatric HIV clinics across the island, which were initially launched as outreach clinics in 2003 but are now stand alone clinics. We all still interact with each other as a group and share experiences and best practices. The success of that model, based on research, resulted in an island-wide establishment of standardised care for mothers and their children," she continued.
"In a study on deaths at Cornwall regional hospital due to HIV in children we found antiretroviral was the only factor that determined survival in children who were orphaned, had AIDS or had a rapid progression of the disease," she continued.
According to Dr. Evans-Gilbert, the Ministry of Health has an aggressive Prevention of Mother to Child Transmission programme that has been yielding significant results.
"Over the last five years at The Cornwall Regional Hospital in Western Jamaica, of 75 HIV infected children, only seven have died and those who survived were more likely to have an improved immune system and suppression of the virus due to antiretrovirals according to lab studies," she said.
"Over that same five-year period about 400 babies were born to mothers with HIV but only about 3 percent of those babies became HIV infected. Those who died had rapidly progressing disease in infancy and were started on antiretrovirals late.  But that doesn't happen anymore.  Now that mothers are identified in pregnancy, more babies have a chance of survival when they are enrolled in the prevention of mother to child transmission programme and receive preventative treatment," she explained.
"It is uncommon for new born babies to be infected and when this happens it is usually because part of the preventative programme has been compromised. As soon as babies are identified in early infancy as positive, life saving antiretroviral agents are started when they are still healthy preventing any progression of the disease," she continued.
"Compared to the early days of the epidemic when I watched children die due to lack of treatment the mothers and families now have hope. Our team is encouraged to keep pushing until we have less and less newly infected babies and a healthy childhood and longer survival for those who are already infected along with their infected parents."