Posted by admin at 12 October, at 10 : 09 AM Print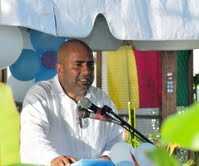 Dear Sir:

We have been reading on almost a daily basis how the ruling Tillman Thomas led NDC government and political party is tearing itself apart and most disturbing of all is that in just over four years his government has mismanaged Grenada's economy to the extent that the country is now bankrupt; yet we in the Diaspora find correspondents from the so called intellectual group/society residing in Grenada blaming the very few who were prepared to stand up and be counted for the future of their country and the people they represent in the now defunct parliament (thanks to Mr Thomas and the Governor General).
These former NDC members are not responsible for the disaster created by the prime minister and his so called group of non elected advisers over the years.
Within eighteen months of Prime Minister Thomas's premiership I began pointing out in a number of my articles that he lacked vision and was incapable of being in charge of such high office. His judgement became questionable when he made two major mistakes in my humble opinion. Mistakes of significant importance to the economy of the country; he sacked Peter David from the very important post at the foreign ministry and he refused to allow the continuation of the St George's redevelopment projects using the casino element (an extremely small part of a major redevelopment) as his excuse – what stupidity.
From then onwards an economy that was already in decline started tumbling from one disaster to another and, as it became out of control, cracks started to appear in his government due partly to his mistrust of the elected members in his Cabinet and his fear of losing the premiership to a more competent member of the government. We started hearing talk from his followers of coup and ambitious people in his Cabinet – what rubbish! You need people with ambition, drive and vision in any government.
It is good not only to hear of but to know of people in business as well as in government with vision, good ideas; commonsense and policies to back up those ideas. These are the people who would say at the right place and at the right time, chairman, or as in the case of Grenada, prime minister, you are wrong; the policy you are pursuing is not working; we would like to discuss alternatives; we have a good business case we would like to present as an alternative which we believe is workable. Should you continue with the current policy we don't feel that we can continue to support it! What the hell is wrong with that?
As the Labour Party leader Ed Miliband said in his speech to our party conferences last week, "If the medicine doesn't work change it; and change the doctor too." And as my Grenadian granny would tell us as children, "Fish starts rotting from the head." So all those NDC correspondents that for months and perhaps years have been writing nasty letters about Peter David especially and to a lesser extent Messrs Roberts; Hood and Gilbert and having these letters published in one of Grenada's weekly newspaper (a mouthpiece of the NDC party) have got what they have stride for with the blessing no doubt of the most displaceable man I can ever remember to run an English-speaking Caribbean country.
I say to you all, Peter David will have the last laugh! Your jealousy; envy; short-slightness and failure to recognise the few who really did try hard to make a difference to your way of life and standard of living was the real reason for the expulsion. You have been rewarded well! With the suspension of your parliament and with it the democratic process we enjoyed since the Americans came to our rescue. Now we have a junta running our country. Hurrah! Lets us celebrate a long good life and good living for Mr Thomas and his family while the rest of us starve. Cheers!
Winston Strachan
Northampton
England
Related Posts
1 October at 11 : 45 AM 0

16 July at 14 : 12 PM 0