Posted by admin at 30 October, at 07 : 52 AM Print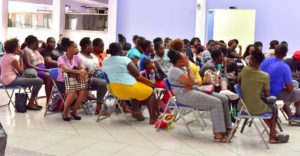 Hillsborough, Carriacou – October 30th, 2017: At a recent gathering of the Imani Trainees at the Carriacou Health Service, I addressed participants in the program to encourage them and to outline our government's commitment in ensuring that the program succeeds. I spoke about issues they're faced with and how we plan on correcting some of the perceived inefficiencies in the system.
Paramount on my agenda is the fact that our youth need to be trained to take up employment within the industries in our country. We want to give you the skills that will change your life and enable you to make investments in homes, families and businesses. Our country needs you, your talents and skills to keep our economy growing.
I am committed to undertaking the establishment of a Technical and Vocational Education and Training (TVET) Center to deal with the specialized skills training and job readiness for you, our youth. I want to position you in a place where you can take advantage of the opportunities that are about to be created in agriculture, tourism, construction, maritime services and the many soft skills that are in demand within our economy.