Posted by admin at 19 May, at 07 : 03 AM Print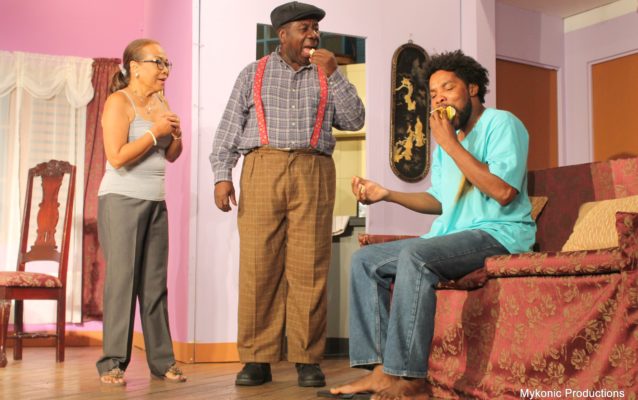 Oliver Samuels, the Caribbean renowned comedian and actor, brings his uproarious new play, "Guilt Trip" to Brooklyn and Bronx on Memorial Weekend direct from Kingston, Jamaica.  EVERYBODY'S "Caribbean" Magazine presents the magical and hilarious family play, "Guilt Trip" on May 28-29 in New York City.  Oliver Samuels stars as Steadman; Ruth Ho Shing, Jamaica's brilliant actress,  plays the role of Steadman's wife, Irene and Dennis Titus acclaimed for his role in Denzel Washington's, The Mighty Quinn, is Morgan, son of Steadman and Irene. What a family! Laughs for so!
MEMORIAL WEEKEND
Saturday, May 28, 8pm, Whitman Theater, Brooklyn Center at Brooklyn College
Sunday, May 29, 6pm, Lehman Center at Lehman College, Bronx.
The Rev. Devon Dick says, "Guilt Trip extols the virtues of Bob Marley. It is a play for the entire family to enjoy but they leave with a rewarding message."
Due to the tight tour schedule, Guilt Trip will only be performed in the NY/NJ area during the last two weekends of May.
Guilt Trip is written by Basil Dawkins.   Although Basil Dawkins is one of the Caribbean's top playwrights, and certainly among the cream of Jamaican writers, producers and directors, his popularity and respect are increasing. You may think he is new on the scene. Yet, he has been a playwright for decades and wrote some of Jamaica's top plays such as "My God Don't Wear Pajamas," "Feminine Justice," and "Uptown Bangarang." Since he started working with Oliver Samuels in 2015 when they presented "Divorce Papers," Dawkins famed has risen even higher.
For additional information log on to: www.everybodysmag.com or call (718) 941-1879.