Posted by admin at 29 April, at 06 : 35 AM Print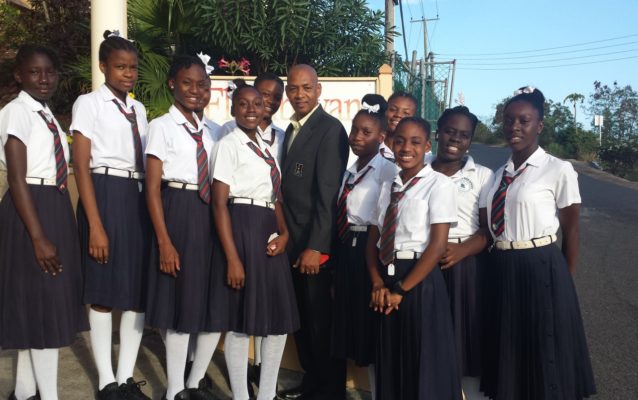 By Neals J. Chitan
In 1985, singer extraordinaire Whitney Houston topped the R&B charts in; Australia, Canada and the US with her cover song "The Greatest Love of All" while making it to the top 20 on charts across Europe.
Written by Michael Masser in 1977 and performed by the most phenomenal soprano voice ever, "The Greatest Love of All" rang out the message that both writer and performer believe that "the children are our future." As beautiful and hopeful as the sentiments expressed by the lyrics may be, I hereby proclaim my personal opinion, that from what I have experienced within the last three weeks of my life, "The children are our present, and we are in good hands"
In the beginning of March 2016, I received a call in my office in Toronto from Kemma Newton who identified herself as a member of the Anglican High School RBC Young Leaders, in Grenada. She told me of their 2016 project and advised me that they had voted to request my assistance and presence to undertake a powerful social empowerment and crime reduction initiative in April, 2016.
The following day, I was contacted by Ms. Judie Thomas-Teacher Coordinator of the all-girls, Anglican High School RBC Young Leaders, who informed me that the students had remembered the powerful impact I made on the school when I spoke at Anglican High three years ago, and they had unanimously decided to invite me to be the motivational speaker and social skill specialist to help them engage their RBC Young Leaders 2016 project.
Ms. Thomas further briefed me on; the "Me…You…We…a shared vision for a better society" theme of the 2016 project, the fund raising initiatives the students had developed, the community needs assessment survey they had done in three at-risk communities and the community consultations they had undertaken.
I was totally floored by the incredibly well structured plan and strategy I heard, and even though I was very busy heading into St. Kitts-Nevis to help curb crime and violence there, the amazing effort these Anglican High School teenage girls had put into addressing crime and other social ills in Grenada, just dictated that I immediately commit to going to Grenada on April 05-15, 2016.
So after returning to Toronto from St. Kitts-Nevis, with just about enough time to kiss my wife and say good bye again, I boarded Caribbean Airlines destined to the Spice Island of Grenada to meet these phenomenal girls and their two amazing teachers who would become family for the next ten days.
Despite my frequent departures and arrivals over the years, I have never experienced an arrival of that caliber. These students had made contact with immigration to have me escorted through the process, only to be floored again by their arrival ceremony; one I thought was fitting for the US President. Dressed sharply in their school uniform, their welcoming line and welcome sign told the story of a highly organized teenage group that was ready to work with me to change Grenada for the better.
Upon indication, a tour bus pulled up to pick us up, and I was escorted to the lovely Flamboyant Hotel overlooking the world famous Grand Anse beach, where through the kind compliments of the management, I will find rest and nourishment for what will turn out to be the ten busiest days of my professional life.
From that very afternoon on April 05, 2016, after having an introductory meeting and chat with the fifty plus members of the RBC Young Leaders at the Anglican High School, we were out into the community to deliver social concepts, strategies, inspiration and hope, an effort that has unquestionably left indelible footprints on the social landscape of Grenada.
In the nine following days, together we accomplished the following;
Five high impact community empowerment and crime reduction sessions
Seven professional development sessions for teachers, youth rehabilitation workers, social workers and prison officers.
One high impact "Grief Management" community session for the families who lost their children in the recent February 07, 2016 fatal boating incident.
Two, one-on-one "Grief Management" session with the family of fifteen year old Britney Baptiste who was murdered by her accused brother-in-law.
One community consultation with members of the Mont Tout community.
One parenting session with an astounding close to 200 parents.
One faith community high impact youth session.
Three on-the-block small group discussions.
One "STOP 'n' THINK" full school assembly.
One national "STOP 'n' THINK" school conference with at-risk students from ten schools.
Two social rehab sessions for youth charged in the court
One session with youth using illegal drugs
Four live TV interviews with Neals Chitan and Danique Herry, Leah Wildman, Shanay Thomas, Renel Francis and Lenara Abraham
Two sessions with threatening suicidal individuals
Two high impact rehab sessions for inmates of the Richmond Hill prison and the newly opened Grand Bacolet Youth Rehabilitation and Lifestyle Center.
One consultation meeting with Hon. Delma Thomas – Minister of Social Development.
Along with the unbelievable cooperation, punctuality, responsibility and work ethics of Renel Francis-the teenage president of the RBC Young Leaders of Anglican High School and her fifty plus members, I have to also give credit to the amazing management and tight scheduling skills of Teacher Co-coordinator Ms. Judie Thomas and her assistant Mrs. Cellestine-James.
Ladies, together with your transportation manager Mr. Roger Woodroffe, we have delivered "One year's work in ten days," as Mrs. Margaret Ann Fleming the national coordinator of the Young Leaders program puts it.  As a matter of fact, the effects were so profound that after my departure on April 15, 2016, requests were still coming in from; communities, families and individuals asking for sessions and social support. Through social media and TV, the powerful social change tremor was also felt across North America and I have since received calls for social help and support for individuals and families.
After reading this article and seeing the personal and community leadership skills of these teenagers, I am confident that you will agree with me that, "I believe that the children are our present…and we are in good hands."