Posted by admin at 19 June, at 20 : 14 PM Print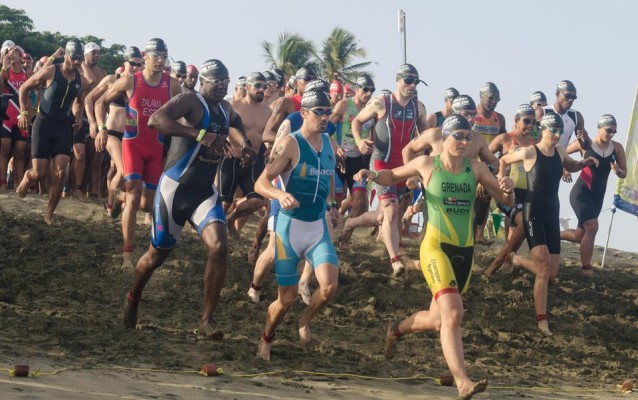 A brand new bike and run course at the Massy Rainbow Cup Triathlon in Tobago on June 13th 2015 meant closed roads for the first time. It also meant 4 significant hills per lap, thats 32 hills on the bike and 8 hills on the run for the Olympic distance race, with technical handling skills needed on some downhill sections. It certainly was a course to separate athletes from the amateurs.
In total 8 athletes flying the Grenada flag, put themselves to the challenge in a total of 11 events, against hundreds of international athletes, and very impressively walked away with 5 podium top-5 finishes.
4 athletes on the Grenada team toed the start line with 40 other athletes in the Olympic distance race. In the female division, Inga Karasek finished 5th overall, narrowly missing 4th in only the closing 100m. In the men's race, Ingmar Prokop 4th place overall against a very competitive field, Chris Regis finished in 14th overall and Philip Clift at the age of 50 finished in 24th.
Marc DeCaul and Calum Noel finished 5th and 6th overall respectively, in the very competitive sprint event against 105 other athletes. Jaydon Hyson in a very impressive performance, won the 10-12 age group race by nearly 2 minutes ahead of the next best competitor, including beating all but 1 of the 13-15 year old athletes that were racing at the same time.
Karasek and Prokop also raced the 3000m open water swim just moments after finishing the Olympic distance race. Karasek finished in 2nd place overall and Prokop in 7th.
Adam DeCaul, having recently placed 2nd at the OECS boxing championships held in Grenada, joined Prokop and 220 other runners for the 5km road race. Prokop after a long day of racing finished in 16th place, DeCaul finishing a respectable 25th.
Related Posts
24 September at 15 : 42 PM 0

10 September at 09 : 57 AM 0