Posted by admin at 25 March, at 10 : 43 AM Print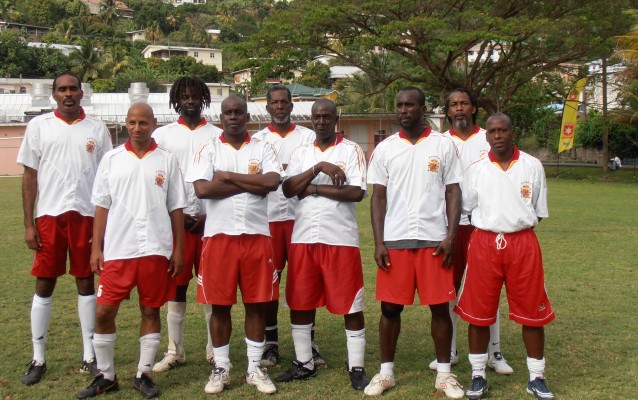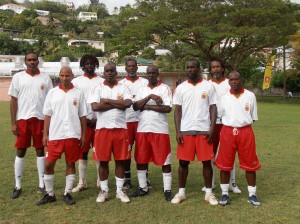 St. George's, March 25, 2012 – After an absence of more than two decades, organized community football competition has returned to Old Trafford Playing Field in Tanteen, St. George's.A tournament for players age 40 and over was launched Sunday, March 25, with a march pass of teams and three friendly matches.
Sunday's matches, which were witnessed by a wide cross-section of spectators of various age groups, including community stalwarts such as Walter St. John, Bruce Bain, Lincoln Bella Thomas and Lennox Laylay James, featured a number of former junior and senior national footballers. Among them were Jude Bolahead Julien, Tiggis Bernard, Lincoln Toro Depradine, Dexter Piey Mitchell, and Kenton Fry Roberts.
Competitive games in the tournament, which is sponsored by United Insurance, will be played on weekends, starting on Saturday afternoon, March 31.
The organizing committee, chaired by Michael St. John, has said that among the tournament's objectives are reestablishing strong bonds of friendship and showcasing the skills of the retired soccer players.
It's also to rekindle community "pride and unity;'' "to provide a forum for recreation and entertainment;'' as well as to "remember and recognize outstanding St. George's footballers of the past'' that are considered football heroes and community role models.
March pass of teams
Old Trafford had lost its original attraction as premier sporting venue, particularly after the passage of Hurricane Ivan in 2004. Following the hurricane, classrooms were set up on the field for use by students of T.A. Marryshow Community College.
For many years, motorists also used Old Trafford as a parking lot.
However, the playing field was rehabilitated and upgraded last year through a joint collaboration involving the Ministry of Sports, the Carenage Organization for Recreation and Entertainment, and MP for the Town of St. George, Peter David.
David, who is also Tourism Minister and General Secretary of the National Democratic Congress, said he was disappointed that he was unable to participate in Sunday's football tournament opening. He was attending a General Council of the NDC in Carriacou.
"I'm delighted, however, that Old Trafford – where I spent many afternoons in the 1970s watching good football from teams like Phoenix, NJM United, Tanteen Scrunters and Halifax City – is once again the site of competitive and exciting football,'' David said.
"I offer my best wishes to the teams and the organizers,'' he added. "I assure them that I will be attending games and will provide whatever support is needed to make the competition a success.''
Related Posts
19 June at 09 : 17 AM 0

22 November at 10 : 44 AM 0

16 October at 10 : 55 AM 0